New complete CloudWatcher software suite
Hi all,
we are releasing updated versions of all CloudWatcher related software, that is, Windows software, Solo, and ASCOM drivers (INDIGO and INDIlib software have their own paths).
These not only support our new combined RH+Pressure sensors, but in general provide more modern functionality, such as: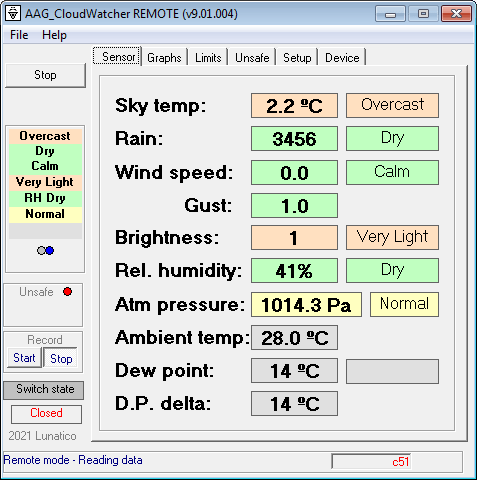 – a new ASCOM Safety monitor and ASCOM Observing conditions driver, both network-aware, so intermittent network issues won't close the observatory!
– Easier to integrate with other systems:
– MQTT publishing (Solo) – easier NodeRED integration
– JSON data file generation
– PushBullet and PushOver messaging
– Faster time / date synchronization (Solo)
– Improved firmware uploader for Windows (no need to be physically present to reboot the unit)
– many other minor improvements
If your Solo is at version 2.x, you need to perform a simple manual operation.
To update your Windows software, or get the new ASCOM drivers, click here.
Thanks,
Jaime