Measuring sky conditions since 2008!
Now with
sky-quality grade light sensor
at no extra cost.
CloudWatcher, the high precision, low-cost system for monitoring the weather conditions and measuring the sky-quality.

High-quality and unique features.
CloudWatcher advantages:
Full information of sky conditions

Sky darkness measuring in "mpsas"

Very affordable price

Reliable readings

Easy interpretation of all information

Connectable to The SOLO CloudWatcher for low power, 24×7 availability

Software available for:

Windows (free)

INDILib (free),

INDIGO (free)

 MAC OSX (developed by Richard Francis, GerSpatial, available from  the  AppStore at a very  reasonable cost).
And autonomously with The SOLO CloudWatcher 

ASCOM safety monitor and observing conditions drivers available

Compatible with

 the Hydreon RG-9 Rain sensor (CW Hydreon version)

Very low maintenance

Product in constant review and improvement

With the experience and service of Lunático Astronomía
In addition, the AAG CloudWatcher software incorporates advanced features such as:
Compatible with most image capture / automation programs: Voyager, PRiSM, MaximDL, ACP, CCDCommander, CCDAutopilot, Maxpilote…

Multiple users in LAN (MASTER mode and REMOTE mode operation);

MASTER and REMOTE installations can be independently parameterized;

Sky temperature correction model to account for excessive atmospheric long wave radiation during summer;
All alerts can be defined as sound alerts, with a specific sound file to be played when the alert condition occurs;

Switch control can be disabled and be performed by an external program (suitable to control other equipment);

Automatic shutdown routine built in the firmware (user programmable)

Firmware may be updated by the user

A complete set of properties / methods for inter-program communications;

ASCOM & SGPro compatible using our ASCOM safety monitor driver

Can combine information from any standard weather station supported by Virtual Weather Station, Weather Display or Cumulus software (by using the free software AAG_WeatherCenter)

Several free programs for mobile devices, as the one developed by Francisco Jesús Cortés, to allow you to receive an alarm in, for example, your mobile phone
If you are looking for a portable solution to detect clouds, measure temperature, brightness, relative humidity, and dew point, choose our PocketCW2 with free app!
PocketCW2 new model!
*Able to measure sky quality *Includes 2.4 Ghz Wi-Fi
*Includes GPS
*ASCOM – Alpaca
*Indi – Indigo
*Configurable alarms for each of the readings (1), for the battery level and the data updates ("watchdog" function)
*With PC connection through USB-C connector
*Works with an internal rechargeable LIPO battery (*optional)
Some CloudWatcher screenshots samples
AAG CloudWatcher cloud detector sensor screen
AAG CloudWatcher cloud detector sensor screen
AAG CloudWatcher cloud detector sensor screen
The AAG CloudWatcher comprises:
 ▬▬        A box with a special exterior finish that includes 4 sensors (and 2 optional ones) that are shown in the program through their corresponding graphs. They allow a thorough and easily understandable measurement of atmospheric conditions:
►    Clouds sensor
►    Rain sensor (capacitive or Hydreon version) (*)
►   Extremely high sensitivity light sensor capable of measuring the sky darkness quality – New from 2022 – 23
►   Temperature sensor
►    Atmospheric pressure and an improved relative humidity sensor – (optional)
►    Anemometer (optional)
▬▬        3, 5, 7 or 10m. (1) long detachable wheather-proof cable with IP68 connector (2), used to connect the cloudwatcher instrument to a PC. Extensors cable in the same measures also available.
▬▬        Relay (3) for observatory opening/closing.
(*) Rain sensor: Capacitive or Hydreon version, what to choose?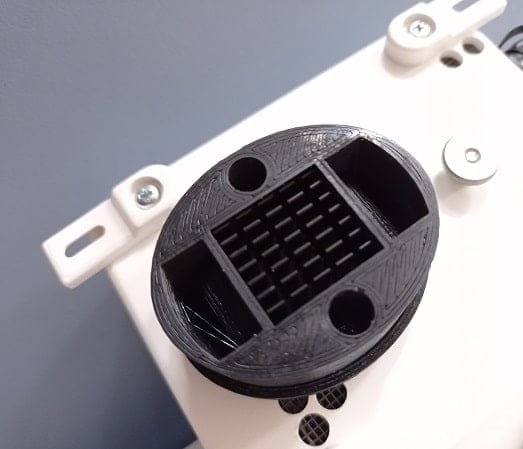 CloudWatcher
Technical specifications
• Power 12 or 15v, current < 1 A
• IP68 conectors
• RS232 Serial port
• Size: 110*85*37 mm.

(1) Choose your best option, between 3, 5, 7 or 10m. You can also use extensions for a total length of up to 30m (cable+extension/s). If you need another length contact us.
(2) The IP68 connectors make the installation of the unit so much easier – the cable can be routed conveniently through a conduit, the smaller side of the cable being a cylindrical connector only 19mm. in diameter.
(3) The Relay cable can withstand a voltage of 220 vol. But not being a security cable it is advised to connect it to low voltage devices (12 or 24v).