(contents revised Feb 2015) 
The "PinByPin" utiliy program allows the user to control each individual output pin of both the main and expansion ports (and the third for the Platypus).
PinByPin was created to assist one of our Canadian customers who wanted, in addition to controlling his focuser, to be able to use individual output pins of the output port to switch relays for dew heaters on/off depending upon temperature changes detected by the Seletek Armadillos built-in and external (optional) temperature sensors.
PinByPin can also be used to drive cooling mirrors, one per output pin per fan, in a similar fashion.
Below is the main control window for PinByPin: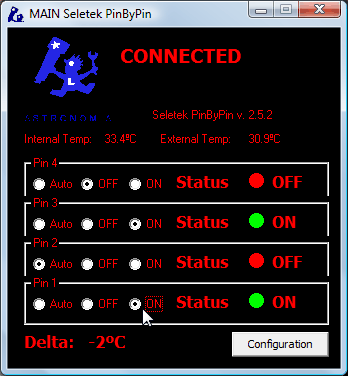 In this example we're using PinByPin to control the Main outputs port pins with pin 4 set manually to OFF, pin 3 to ON, pin 2 to Auto and pin 1 at ON.
The current status of each pin is clearly displayed, as well as the "Delta temp" between the internal and external sensors.
Using PinByPin the user can change the settings of any pin at any time to switch remotely with ease. Or the user can automate the process of device control in response to temperature sensor inputs by configuring the "Auto" settings in PinByPin.
This next example shows PinByPin configured to control the primary mirror cooling fans with pins 4 and 3 (will become active if the external temperature is higher than the internal measured one), while pins 2 and 1 are used to control two separate relays operating two separate dew heaters. The "Internal sensor offset" supports fine-tuning of the internal temperature sensor bias due to its location inside the Seletek Armadillo enclosure.